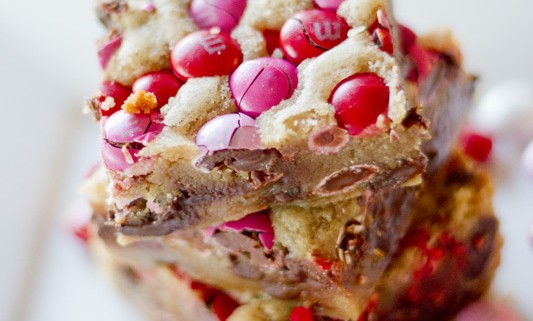 Nothing says Happy Valentines day like delicious chocolates and candy! Here are some recipes to win your sweet tooth over and maybe even your sweetie.
1½ Sticks Unsalted Butter, cut into 1-inch pieces
1 c. Brown Sugar, packed
¼ c. Granulated White Sugar
1 Large Egg
1 T. Pure Vanilla Extract
¼ c. Heavy Whipping Cream
¼ t. Salt
1½ c. All-Purpose Flour
1 c. Semi-Sweet Chocolate Chips
1 c. Valentine M&M's
Preheat oven to 350 degrees. Spray a 9×9 pan with nonstick cooking spray.
Heat butter in a saucepan over medium-low heat until it turns an amber color and begins to smell nutty. Brown bits will start to appear in the bottom of the pan.
In a large bowl, stir together the browned butter and sugars. With a wooden spoon, stir in the egg, vanilla, heavy whipping cream and salt. Stir in flour, semi-sweet chocolate chips and half of a cup of the M&M's. Spread evenly into the pan and sprinkle with the remaining M&M's. Gently press them into the batter.
Bake for 25-30 minutes (recommended 27 minutes). Let the blondies cool completely on a wire rack. Cut into squares and store in an air-tight container.
1 (16 oz) can of strawberry frosting
1 12 oz bag of white chocolate chips
Prepare a 9×9 pan by spray lightly with cooking spray.
Over a double boiler, or in the microwave, melt your white chocolate chips.
When chips are melted, remove from heat and stir in your strawberry frosting, evenly.
Spread in your prepared pan and place in fridge to set for 30 minutes.
Cut into squares to serve.
Pink Cookie Dough Truffles
Ingredients
1 cup all purpose flour
1/4 tsp salt
dash of cinnamon
1 stick butter, softened (it is even okay if it is melting a little)
1/2 cup brown sugar
1/4 cup sugar
1/2 tsp vanilla extract
3/4 cups mini semi-sweet chocolate chips
1 – 2 tablespoons water
Assorted candy melts
Instructions
In a medium bowl combine the flour, salt, and dash of cinnamon. In a second larger bowl, beat together the butter, sugar, brown sugar, and vanilla extract until creamy. Slowly beat in the flour mixture until smooth. Stir in the chocolate chips. Add water if mixture is too dry to form into balls. Roll the mixture into quarter size balls and lay on cookie sheet lined with wax paper (Should make approximately 20). Chill for several hours or freeze for 15-20 minutes until firm.
Melt candy melts in the microwave per directions on package (30 sec intervals, stirring in between). Gently dip the cookie dough ball into the candy coating. Once covered, remove and let the excess chocolate fall off. Place back on wax paper to dry.
To decorate with drizzled chocolate, place melted chocolate in a plastic sandwich bag. Using scissors, cut the very tip off the sandwich bag. The smaller your cut, the smaller the drizzle. Use the sandwich bag to pipe the chocolate back and forth over the cookie dough truffle until you reach the desired look. If you chose, top with sprinkles.
Red Velvet Oreo Truffle Brownies
Ingredients
1 Duncan Hines box Red Velvet cake mix
1/2 cup butter, melted
2 eggs
1 package Jell-O insant white chocolate pudding (3.3 ounces)
6 tablespoons vegetable oil
1 package Oreos
8 ounce package cream cheese
1/2 package (1/2lb) chocolate bark (CandiQuick) (or about 1-1/2 cups chocolate chips)
mini chocolate chips for garnish
Instructions
Preheat oven to 325 degrees F. Combine cake mix, melted butter, eggs, pudding mix, vegetable oil and mix well until thoroughly combined (2-3 minutes on medium of electric mixer).
Spray a 9×13 with nonstick cooking spray. I like the baking variety that has flour in it. Then spread the red velvet brownie layer into the pan. It will be VERY thick, use the back of a spoon (or clean hands) to help spread it into all edges of the pan.
Bake for 20-22 minutes or until a toothpick inserted comes out clean (ovens vary so watch closely). Let cool completely before flipping out.
Crush package of Oreos in a food processor (or in a large plastic bag and rolling pin).
Melt cream cheese for 15 seconds in a microwave to soften.
Stir together crushed Oreos and cream cheese until blended smooth.
Carefully spread out Oreo truffle mixture on top of baked red velvet brownies. Use your hands to help press it down instead of spreading to avoid tearing the brownies.
Melt chocolate candy bark (or chocolate chips) and pour over top Oreo truffle layer.
Sprinkle with mini chocolate chips while still warm.
Let cool competely before cutting into squares.
http://pizzazzerie.com/recipes/valentines-day-red-velvet-oreo-truffle-brownie-bars/
http://www.bakedperfection.com/2012/07/pretty-pink-cookie-dough-truffles.html
http://cookiesandcups.com/strawberry-2-ingredient-fudge/
http://bigcitycatering.com/wp-content/uploads/2014/02/MM-Blondie.jpg
800
533
BigCity
http://bigcitycatering.com/new/wp-content/uploads/2014/05/BigCitylogo-300x269.png
BigCity
2014-02-12 14:49:00
2014-02-12 14:49:00
Welcoming Wednesday: Treats and sweets