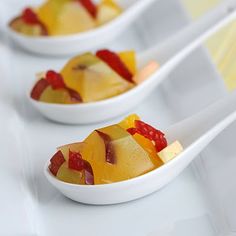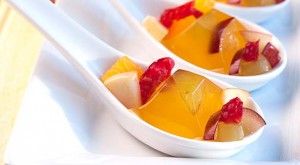 It's Summertime, so Pull out that bottle of White Wine that you've had in your Wine Rack and put it to good use!
<>
Ingredients
1 cup white wine (any white will do)
Chopped fruit, to fill cocktail shaker 1/2 full (I used lemon, lime, orange, and grapes) plus additional for garnish
1/8 cup water
1/8 cup frozen lemonade concentrate, thawed
1/4 cup orange juice
1/4 cup lemon lime soda, or club soda
2 1/2 envelopes plain gelatin (1/2 envelope = about 1 tsp gelatin powder)
1/4 cup Cointreau or triple sec
1/4 cup vodka
<>
Directions
If using flexible silicon molds, spray lightly with cooking spray, and then wipe out well with paper towels. This will leave a slight reside which will help remove the jelly shots without impacting the taste or appearance. If using a standard 1 lb non-reactive metal or glass loaf pan (approx 9 x 5), no prep is needed.
Fill the cocktail shaker 1/2 full of chopped fruit, and muddle vigorously (set remaining fruit aside to for garnish). Add the wine to the cocktail shaker, shake for a minute or so and set aside (no ice is needed).
Pour water, lemonade concentrate , juice and soda into a small saucepan and sprinkle with the gelatin. Allow the gelatin to soak for a minute or two.
Heat over very low heat until gelatin is dissolved, stirring constantly, about 5 minutes. Remove from heat.
Strain the wine mixture (you should have about 1 1/4 cups of liquid, and stir into gelatin mixture along with the Cointreau and vodka.
Pour mixture into loaf pan or molds. Place in refrigerator to set (several hours or overnight).
To serve, cut into desired shapes or un-mold. Place each shot in an appetizer spoon, and garnish with chopped fruit.
<>
Enjoy!
http://bigcitycatering.com/wp-content/uploads/2015/05/c12e5689f6dccdd6807d4fefec7045df.jpg
236
236
BigCity
http://bigcitycatering.com/new/wp-content/uploads/2014/05/BigCitylogo-300x269.png
BigCity
2015-05-28 01:52:29
2015-06-25 15:23:42
{Thirsty Thursday} White Wine Sangria Jello Shots