What better way to celebrate our nations independence this Fourth of July than some festive drinks, or you can give them a more clever name ~Freedom Cocktails 🙂
These pair great with your BBQ staples: Grilled Hamburgers, Hot Dogs, Baked Beans, Mac n' Cheese, Potato Salad, Corn on the Cob….did we miss anything?
<>
<>
Watermelon-Tequila Cocktail
INGREDIENTS
1/4 cup water
1/4 cup granulated sugar
8 cups diced seedless watermelon (1 pound)
1/4 cup fresh lime juice
1 3/4 cups blueberries
3/4 cup lightly packed fresh mint leaves, plus 8 sprigs for garnish
1 1/4 cups silver tequila
Ice
1. In a small saucepan, bring the water to a simmer with the sugar and stir over moderate heat until the sugar is dissolved, about 1 minute; let the sugar syrup cool.
2. In a blender, puree the watermelon until smooth. Set a fine-mesh strainer over a bowl and strain the watermelon juice, pressing gently on the solids to extract as much juice as possible. 3.Discard the pulp.
4.In a large pitcher, combine the sugar syrup with the lime juice, blueberries and mint leaves. 5.Using a wooden spoon, lightly muddle the blueberries and mint. Add the watermelon juice and tequila. Refrigerate until chilled, about 2 hours.
6.Pour the cocktail into tall ice-filled glasses. Garnish with the mint sprigs and serve.
<>
<>
Watermelon Sangria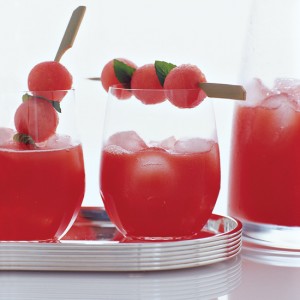 INGREDIENTS
2 pounds seedless watermelon, peeled and cubed, plus 1/2 pound watermelon cut into balls with a melon baller and skewered on picks
1 bottle dry white wine
6 ounces vodka
4 ounces Cointreau or other triple sec
4 ounces Citrus Syrup
Ice
In a blender, puree the watermelon cubes. Pour through a fine strainer into a pitcher. Add the white wine, vodka, Cointreau and Citrus Syrup. Stir and refrigerate for at least 2 hours. Stir again, then pour the sangria into ice-filled white wine glasses and garnish with the skewered watermelon balls.
<>
<>
Coconut Lime Granita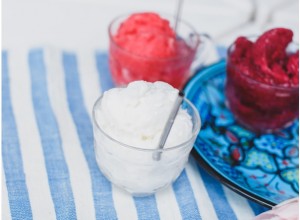 INGREDIENTS
2 limes, peeled and then juiced (about 1/4 cup juice)
1 1/2 cups coconut milk
1/2 cup white sugar
Rum to taste
1.Combine lime peels, sugar, and half of the coconut milk in a pot over medium heat, stirring until sugar is dissolved, about 10 minutes. Take off heat and let the syrup cool.
2.Once room temp, strain, add the lime juice and remaining coconut milk, stir together, and pour into one ice cube tray.
3.To serve, crush the ice cubes in a blender or food processor, and top with rum.
4.Serve in deep cups with spoons and straws. Enjoy!
Sources:
http://www.foodandwine.com/recipes/watermelon-sangria-cocktails-2007
http://www.foodandwine.com/recipes/watermelon-tequila-cocktails
http://laurenconrad.com/blog/2015/07/lovely-libations-red-white-and-blueberry-boozy-granita-cocktails/
http://bigcitycatering.com/wp-content/uploads/2015/07/HD-fw2007_c_watermelonsangria.jpg
550
550
BigCity
http://bigcitycatering.com/new/wp-content/uploads/2014/05/BigCitylogo-300x269.png
BigCity
2015-07-03 17:31:09
2017-05-08 20:40:37
{Red White and Booze} Fourth of July Drinks